Can Erectile Dysfunction Be Psychological?
The Psychology of Erectile Dysfunction
Is erectile dysfunction psychological? While a majority of cases of erectile dysfunction are related to physical health issues, mental health factors have been traced as the source of anywhere between 10% to 20% of ED cases.
Psychological problems like anxiety, daily stress, a man's own negative views about his body, childhood, and visual or mental images of sexual trauma, depression, or other causes, can all lead to a man being nervous about performing, which leads to the body producing adrenaline when trying to be intimate. The adrenaline leads to a reduction in blood flow to the penis. Adrenaline makes it challenging to achieve erections. Worse, the body can become accustomed to releasing adrenaline if these psychological factors are chronic and constant in a man's sexual life, meaning that he might start a vicious cycle that will take therapy or medical treatment to break.
Keep reading and learn more about the most common psychological causes of ED.
The Most Common Psychological Causes
of Erectile Dysfunction
Stress is pretty common, and it might be caused by a variety of circumstances, including work-related issues, financial concerns, and marital difficulties.
ED can cause men to become unduly concerned about the possibility that the problem could reoccur. This might result in "performance anxiety" or a fear of sexual failure, which can then lead to ED on a consistent basis.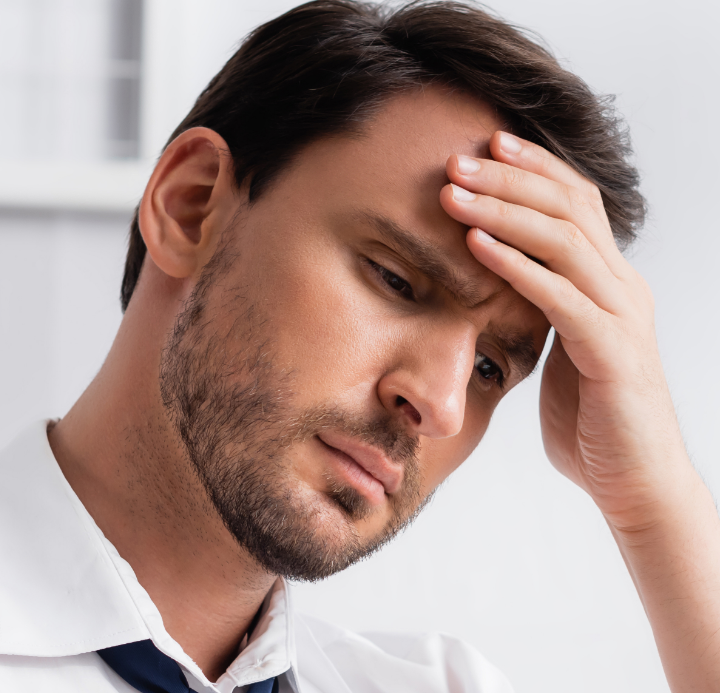 Psychological variables are responsible for approximately 10 percent to 20 percent of all cases of erectile dysfunction—also known as erectile dysfunction syndrome. It is frequently the result of a subsequent reaction to an underlying physiological reason. Childhood abuse or sexual trauma may also have had an impact on the development of the psychological symptoms of ED and hinders normal sexual function.
If you and your partner are going through a hard time, you'll get more than just the silent treatment. If can also cause a strain on your sexual relationship. If your emotional connection is strained, it might have an impact on your sexual connection.
It's possible to lose your sexual drive and sexual function as a result of arguments, poor communication, and rage. It is possible to alleviate your ED symptoms by working through these issues with your loved one.
Seek the advice of a counselor or therapist if you are unable to resolve your relationship troubles on your own.
Depression, which is a prevalent cause of erectile dysfunction, has an impact on a person's physical and psychological well-being. Even if a man is entirely at ease in sexual circumstances, depression can lead to erectile dysfunction. Drugs used to treat depression have been linked to erectile dysfunction.
Sadness, hopelessness, emptiness
Frustration, irritability
Fatigue (due to sleep disorders), lack of energy
Feelings of guilt
General lack of focus or stunted thinking
After experiencing ED for the first time, you may be concerned that you may never be able to enjoy regular sexual function again and you might think that you can't perform sexually in front of your partner. This can result in feelings of fear or low self-esteem during sexual intercourse. These emotions may have an impact on your capacity to develop or sustain an erection during your next sexual experience. You might need physical stimulation for you to have sexual arousal.
This cycle can continue indefinitely unless you consult with a doctor to discover a solution. Talk to a mental health professional. Once you've found the correct solution for your sexual dysfunction, you should be able to relax a little.
A man may feel guilty if he is not providing enough satisfaction to his sexual partner.
If you have had previous episodes of ED, you may be experiencing feelings of inadequacy and low self-esteem. If you are experiencing other concerns that are not linked to sexual performance, you may be experiencing anxiety.
While it is not necessarily harmful to watch porn, excessive exposure to pornography might have a high negative impact on your erectile function and sexual health which can cause psychological impotence. It can also lead to Performance Anxiety and you'll experience sexual dysfunctions. You can ask for professional medical advice to help you with your pornography addiction..
In case you spend an excessive amount of time watching and masturbating to pornography, it is possible that you will have inaccurate expectations about your sexual experience or about your sexual partners, according to research.
Erectile dysfunction is a condition that might occur when you have difficulty attaining or maintaining erections as a result of watching pornographic material. Another issue is the "death grip" syndrome, in which a man might be too accustomed to masturbating with a firm grip.
Fast and Discreet Delivery
Get Ed Treatment Delivered
How Do You Identify Psychological ED?
Erectile dysfunction might be caused by a medical problem that is not immediately apparent. Attempting to ascertain whether erectile dysfunction is caused by psychological factors, a healthcare provider will aim to investigate and rule out any medical issues that may be causing the problem.
How does Ed affect a man psychologically? An individual's sexual function may be negatively affected by psychological variables that are discussed and evaluated by a physician or mental health expert once medical conditions have been ruled out as a cause.
If a man has an easy time getting an erection when sleeping but not in other conditions, the most likely explanation is psychological. If, on the other hand, he is unable to tell or an erection is not occurring, the cause is most likely physical.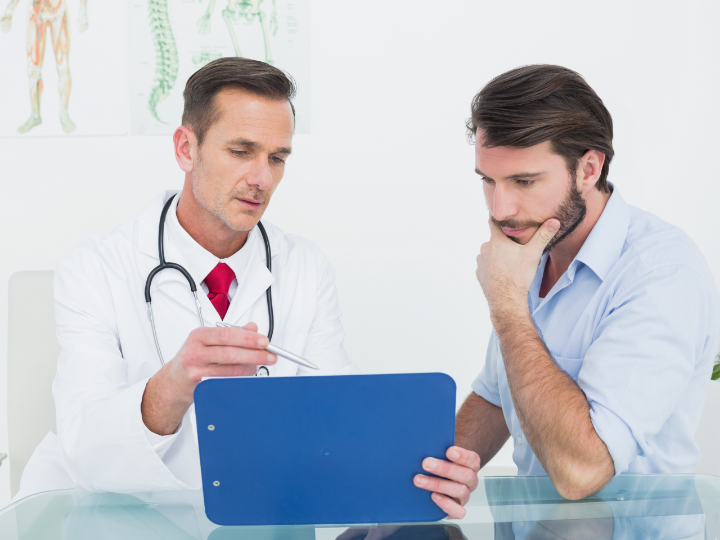 In order to rule out some medical causes of your ED, your healthcare practitioner will ask you some questions and do certain tests after performing a physical examination and reviewing your medical history with you.
Heart disease, metabolic syndrome, high blood pressure, chronic kidney disease, multiple sclerosis, and injury to the penis and its surrounding tissues are all common medical reasons for erectile dysfunction (ED).
Also, your sexual desire and performance may be affected by hormonal disorders such as low testosterone levels. The following are some questions to consider asking yourself when confronting the possibility of having psychological ED:
Are you interested in sex and your partner but still have trouble with sexual performance?
Can you achieve an erection when masturbating?
Are morning erections still occurring to you?
Are you currently experiencing a great amount of anxiety or stress?
Does the idea of not pleasing your partner cause you stress?
How To Rule Out Physical ED
Your healthcare provider may run tests such as the ones listed below in order to rule out Physical ED:
Complete Blood Count (CBC)
A basic blood test that evaluates your three-month average blood sugar.
Fasting Glucose Hemoglobin (A1C)
An evaluation of your overall health as well as the detection of certain illnesses, such as anemia and infection.
Complete Metabolic Profile
It tests the body's fluid balance, levels of electrolytes such as sodium and potassium, and how effectively the kidneys or liver are functioning.
Thyroid-stimulating Hormone
A blood test for the thyroid hormone, which is a butterfly-shaped gland in the neck. The hormones produced by the thyroid govern how efficiently your body utilizes energy.
It's a blood test that can tell you how much cholesterol and triglycerides you have in your blood.
This test detects the amount of testosterone in your bloodstream.
Treatment Options For Psychological ED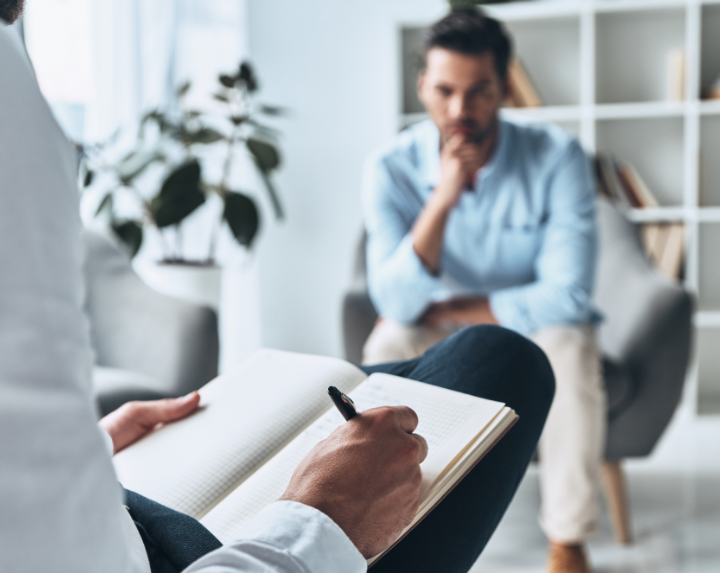 Mental ED can almost always be treated, much like erectile dysfunction caused by physical health conditions. It's important to know that taking sildenafil (the active ingredient in Viagra®) before sexual activity isn't necessarily the easiest method to manage psychological ED.
PDE5 inhibitors, the most common type of ED medicine, function by increasing blood flow to the penis' soft tissue. These medications bypass the underlying physiological causes of erectile dysfunction, such as insufficient blood flow or nerve injury. Sildenafil is one of several oral ED drugs that function this way, including Cialis, Levitra, and Avanafil.
Despite the fact that these drugs are beneficial in treating ED in many men, they aren't meant to alter your emotions, feelings, or thoughts in any way. As a result, you may not be able to deal with difficulties like low self-esteem, anxiety, or despair if you use them.
Psychological erectile dysfunction can be effectively treated if the main cause is addressed, whether it be a mental disease or simply emotions of shame about sex. The following are some options to consider when treating psychological ED:
Cognitive Behavioral Therapy (CBT)
In the treatment of mental health concerns, such as depression and anxiety, CBT is widely used. It has also been found to be useful in the treatment of men with ED.
For those who are experiencing erectile dysfunction or other sexual health difficulties, this type of treatment can assist in uncovering the underlying causes of these disorders and work to correct them. It is founded on the premise that it is your reaction to the problem, not the problem itself (in this example, your failure to generate or sustain an erection). Also, you may be able to alter your negative thought patterns if you can have a better understanding of them.
To address sexual issues, psychosexual therapy may involve short-term counseling or longer-term psychotherapy. It's a non-physical treatment that doesn't require a massage or other forms of touch. Emotional or psychological factors have a significant role in psychosexual issues. However, they can also be the result of or be exacerbated by physical issues.
Return to GREAT SEX
Call To Refill Your ICP Now!
What To Expect From Psychosexual Therapy
An erectile dysfunction specialist can assist you (and your partner, in many circumstances) deal with sexual problems like erectile dysfunction. Alternate therapies are available for those who don't want or aren't ready to seek professional help for their mental health issues. Among them:
The effects of meditation on erectile dysfunction haven't been studied directly; however it has been shown to alleviate depression and anxiety.
If you're having problems with psychogenic ED and want to improve your sexual function, try relaxing techniques like rhythmic breathing and guided visualization.
In order to assist individuals and couples in resolving sexual challenges, such as performance anxiety or relationship problems, a form of counseling known as "sex therapy" is used. The therapist's office is usually where clients meet. Session attendees can come alone or bring a companion.
What To Expect From Sex Therapy
For the first time seeing a sex therapist, it's typical for clients to be apprehensive. When it comes to talking about sex, many people have a hard time doing so. There are some that are aware of this and do their best to make their clientele feel at ease. Clients' health and sexual histories are frequently discussed, as are their sex education, sex attitudes, and any unique sexual concerns.
Other Techniques To Control ED
Individual Therapy
Group Therapy
Guided Meditations
Couples Counseling
Sex Therapy
Sexual Education
Guided Stress-Relieving Practices
ED affects all guys at some point in their lives. Men should only seek medical attention if the condition persists for more than half of the time or if it causes them, or their partners, significant distress. Psychotherapy may be required in conjunction with medical treatment for men whose erectile dysfunction is the result of psychological issues, so knowing what kind of ED is affecting their health, whether mental or physical, will always be one of the first steps to battle ED.
Do you have any more questions about Psychological ED? You can contact our team of experts and let them guide you through the benefits of this ED treatment. Erectile Dysfunction can be a sign of more severe illnesses. Boston Medical Group Telemedicine, we recommend that you start taking care of your health today. You can talk to one of our clinical practitioners in sexual medicine.