Terms like "small" and "large" are —of course— relative. A "large" soda at a McDonald's in France is tiny compared to a "large" one in the U.S., for example, where the size is usually considered "medium".
So, these are the things to take into consideration before applying terms like "small" and "large" to your body parts, especially with the penis size. It's better to think about it as "above" and "below" average, or if you insist, smaller than average, and larger than the average, which is less than those 5.17 inches in length and less than 3.67 inches in girth, while erect penis length. There are various types of penis growth, there is a webbed penis, a bigger penis, a buried penis, or a trapped penis.
But how smaller than average should you be before you're going to stand out? How do you measure your penis? Almost 90 percent of men have penises that are between 4 and 6 inches when erect, leaving out the really small or really large penises in that leftover 10 percent. If you're smaller than 4 inches, the average penis size, then you might indeed have a relatively small penis.
"At the end of the day, there's much more to satisfying
relationships and sexual confidence than this
one simple measure."
–
Dr. ED / Zava (UK's online medical service)

In the end… Does penis size matter? Maybe!?
What To Do With a Smaller Than Average Penis?
A smaller than average penis (even if it's an erect penis) can work perfectly well for most women and men. We write about this later on, but you should know that when it comes to what women think about most penis size, a vast majority (84%) think their partner's penis is fine, according to a study from UCLA and Cal State LA. Most women need more than just penetration in order to achieve an orgasm during sex, and so a small penis isn't much of a detriment to a healthy sex life between couples.
Sex positions
"Swivel and screw" is the most popular one for men with smaller penises, along with the "spins on doggy style." Girl on top is another good one, even if some men might have problems due to their ego. All sex positions for small penises are made so that the penis comes into contact more easily with the clitoris, which is the key part of any sex position with women in terms of sexual health.
Elevate your game (toys, etc.)
"If you're genuinely concerned that your penile
shortcomings are leading to a less than pleasant sexual
experience for your partners, there are products you can
procure that can change all that in a flash."
–
Aly Walansky for AskMen

The strap-on: This might sound weird, but one option is a brief harness usually reserved for lesbian women having sex. It's essentially a dildo strapped to a piece of underwear, that can ensure deep penetration.
Massagers or silicone vibrator rings: Some toys, like silicone rings or compact vibrators, can go on a man's small or micropenis, and help a woman achieve orgasm by stimulating her clitoris through a small vibrator attached to the toy.
Micropenis
A micropenis is any penis smaller than 2.05 inches while flaccid, and 3.35 inches stretched or erect, although some researchers consider less than 3 inches erect as the micropenis threshold.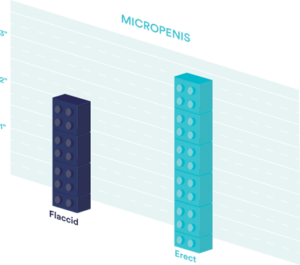 Having a micropenis is considered the only legitimate medical reason why men can opt for penis enlargement surgery, a form of cosmetic surgery, in order to improve its function and other health conditions if that's the problem with it. A lot of men with micropenises might not care, after all.
While there are some medical procedures available for this condition. The usual treatment for a micropenis is phalloplasty, which involves cutting the ligament that joins the penis to the pelvic area. The average penis size length increase is 0.8 inches (2cm), but only 35% of people who get the treatment are happy afterward. For most men, acceptance is probably their best option.
Before considering any penis enlargement surgery, don't forget about this crucial fact: There are no definitive solutions to any penis size problems.
"A man must use his entire body, as well as his mind,
to help his partner reach orgasm. Be a bigger man – but
in the right way!"
–
Patrick Banks, dating coach and head writer for Wingman Magazine.