Let's first get this out of the way. BJUI's systematic review cobbled together 20 studies about penis sizes from different countries and is a collaboration between King's College London and the United Kingdom's National Health Service (NHS).
This worldwide review of studies found that, on average, a flaccid penis is 3.61 inches in length when flaccid and the average erect penis length is 5.16 inches. Girth is 3.66 inches when flaccid and 4.59 inches when erect.
That should be enough for any man, but of course, you'll have questions and wonder if your potential partners or fellow men out there know this too and aren't going to judge you for your perfectly average or possibly even above-average penis.
Ironically, it's usually women who know more about average penis sizes than men do since they tend to actually see them and see more of them. They are also the ones to be affected more by sizes. This is why "only 6% of women rate their partner's penis size as small, and 84% say they're very satisfied with their lover's size. In contrast, only 55% of men report a similar level of satisfaction with their own size," says Toronto-based sexologist (Ph.D.) and author Dr. Jess O'Reilly, and as this Bustle compilation from Amanda Chatel about women's opinions on penis size proves, it is about how you use your penis, not so much size (and too big is a genuine problem for many women).
Not As Big As You Think
According to one study from 2013, the average penile length in the United States is 5.57 inches (14.15 cm) erect, and a mean erect penile circumference of 4.81 inches (12.23 cm). Those average length and circumference numbers are a bit larger than the ones from the BJUI report, likely because the penile dimensions and measurements were self-reported, i.e., the participating men themselves gave the measurements and thus may be slightly augmented than the accurate measurement. Especially if they have experienced sexual activity with another person, a 2019 study finds. It gives the study less credible than others, although the researchers defend their study by adding that their results were consistent with other research about penis sizes.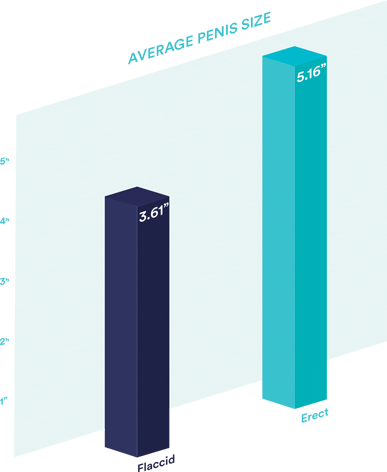 The study tried to convince men to report accurately because the size they gave to researchers was the one to be used for some condoms they were going to be sent later on—a tactic published in the Journal of Sexual Medicine—but that still puts into question the reliability of the study itself.
Self-reported measurements are still accepted because there are issues with penis measurements carried out on volunteers by others. "The concern with the self-report method is that guys will lie or exaggerate, while the concern with the clinical measurement studies is that only more well-endowed men will opt to participate," says Dr. Justin Lehmiller, Founder and Editor of Sex and Psychology.
Nevertheless, many of the studies that travel around the internet in search of views and clicks are based on the self-reported method, which is why the BJUI report is so valuable. And because of that, we'll stick to the global average of 5.16 inches long given by the report.
What size penis do women want?
There is no one correct response when asking what size penis women prefer in a male. Every woman is unique and has her own set of standards when it comes to body type and the proportion of their sexual partners.
What is the average size by state?
The average penis size in all of America is just 5.57 inches, despite what some states might claim. Most studies are done through indirect methods (like measuring condom sizes ordered by mail), so it's hard to take some of these studies seriously. One experiment carried out by a male sexuality clinic found that the three states with the largest self-reported sizes were Alabama at 7.44 inches, Louisiana at 7.15, and West Virginia at 7.00. The rest of the states, starting with Vermont at 6.98, all came in below 7 inches. Most averaged above 6, with only eight states averaging below. Those were Delaware (5.22), New Mexico (5.36), Maryland (5.50), Georgia (5.69), and Rhode Island (5.83).
A big caveat about this: All sizes are self-reported, which might be why the sizes come in at least an inch above what the BJUI study shows.
What is the average size by race or ethnicity?
It's always dangerous to mix race or ethnicity with any topic because we should be wary of spreading stereotypes, even if we think they're harmless or "good" for one race or another. The subject of penis sizes is no different.
Let's get this out of the way quickly: The BJUI review couldn't find credible evidence of differences between races on average penis length or penis sizes.
The study states, "it is not possible from the present meta-analysis to draw any conclusions about any differences in penile size across races," no matter what popular myths or anecdotal "evidence" says.
The main problem with current data about penile sizes around the world and differences between ethnicities is that there isn't one single and comprehensive study that measures length and girth with the same methods across races, ethnicities, or even countries. But so far, there's no evidence any single "race" is more endowed than others by any significant margin.
Although it could seem easy to measure the penis from the pubic bone to the penile tip, we have to remember that guys can be generous when measuring themselves and will perform the measurements inconsistently. Then there's the issue of participant selection effects—are men of a larger penis size more inclined to participate in such studies? says Dr. Justin Lehmiller, Founder and Editor of Sex and Psychology, and that's consistent with men around the world and in any country.
The big question: does penis size matter? In the end… maybe!? And only if you're either extremely small or extremely large.
Social Pressure
The idea of what the normal, average penis length or average penis size can be is so misconstrued in so many ways. A lot of the time, concerns regarding what is and what isn't normal regarding penis sizes are perpetuated by the unrealistic expectations set upon by popular media, namely porn. There is also sexual performance anxiety and penis size discontentment fueled by expectations that men have regarding women's penis size preferences. Or, more accurately, what men think women's penis size preferences are, which they are often mistaken about too.
One study found that 77% of female participants said penis length was unimportant or totally unimportant for sexual function. Another survey found that of 50 sexually active undergraduate students, 45 said that girth was more important than penis length when it came to sexual satisfaction.
To continue the trend of debunking myths, there also isn't any strong evidence that penis size is linked to other physical features such as body mass index, height, or shoe size, as it is often believed. Comparing yourself to others and feeling bad based on these can only cause you unnecessary stress, which can lead to even worse problems like sexual dysfunction.
Is the foot size theory real?
The concern regarding penis size can sometimes stem from the foot size myth, which suggests that a man's penis size is directly proportional to the length of his feet. This pervasive myth assumes that larger shoes indicate a larger penis. However, it is important to examine this myth from a scientific perspective.
In 1993, a study was conducted on 63 Canadian men, which compared their height, foot length, and penis length. The researchers found a slight correlation between foot size and penis length, but they noted that the relationship was so weak that foot size could not be used as a practical estimator of penis length.
There is no correlation or prediction between penis size and shoe size, or any other body part, for that matter. The size of the penis is determined by a combination of genetic and environmental factors, which mostly occur during fetal development.
Penis Enlargement
Even so, studies have shown that a large percentage of men still wish they were larger. And there are ways they can, whether they need it or not. For non-surgical penis enlargement methods, candidates for penis lengthening can choose penis pumps, traction devices, and even stretching exercises to try to increase the penile size. Penile lengthening procedures also exist, but you'll probably be surprised to know that most men who got them actually had normal penile lengths, according to a study published by the International Journal of Impotence Research. Anyone who's thinking of getting one should know that a study in the Journal of Urology came to the conclusion that men with a flaccid length of fewer than 1.6 inches (4 centimeters) or a stretched or erect length of 3 inches (7.5 centimeters) should be considered for penile lengthening.
In some cases, men could also have additional skin around the penis, making it look smaller when it is actually average-sized. This is referred to as a buried penis and can usually be fixed through surgery with the help of a sexual health specialist or clinic.
Micropenis and Buried Penis
Some people are born with very small penises, which are called micropenis. This is usually caused by hormones or genes. It does the same things that a normal-sized penis does, although people may not like how it looks. If a person wants to make it bigger, they can get hormone therapy or surgery. Sometimes, a penis that is of average size can look little because there is more skin around it. This is sometimes called a "buried penis," and surgery can definitely fix it.
Erectile dysfunction and the size of the penis
Any concern a man has about his sexual performance or general appearance can result in problems with erections and intimacy. Specifically, anxiety about the size of the penis can have a significant impact on sexual activity and relationships.
Men who worry about their penis size may avoid sexual activity and prevent relationships from progressing, leading to sexless marriages and broken relationships. This fixation on penis size can also cause men to become overly sensitive to their partner's responses and focus on their performance, leading to erectile dysfunction and discomfort during stimulation.
When communication between partners is poor and anxiety about penis size is present, erectile dysfunction can occur regularly in a partnered setting. Men may incorrectly assume that their partner is disappointed with their erection, which can further exacerbate anxiety and cause a cycle of erectile dysfunction.
Addressing concerns about penis size can make a significant difference in achieving the desired level of sexual satisfaction and avoiding problems with erections and intimacy.