The Main Cause of Erectile Dysfunction
Doctors used to blame erectile dysfunction or impotence on mental health issues—or the aging process in older men. Now, the medical community's perspective on impotence causes has shifted.
Regular erectile dysfunction should be treated by a doctor, even if it takes longer to acquire arousal as you become older. It's not always a psychological issue, as a sedentary lifestyle, neurological problems, kidney problems, thyroid problems, and more are some of the causes of impotence. Also, many urologists now believe that physical issues play a role in the majority of long-term ED cases (in men over 50).
What Are The Main Causes of Erectile Dysfunction?
Blood vessels have a major role in erections. In older men, diseases that restrict blood flow to the penis are the most common cause of erectile dysfunction (ED).
In certain cases, this may be due to a defective vein that drains blood from the penis too quickly. Or it could be a case of hormone abnormalities and certain surgeries. In addition, ED is caused by a wide range of other conditions that could involve problems with the prostate, pelvis, and bladder. Trauma to the pelvic area as experienced in certain types of surgery, radiation therapy, or car accidents resulting in damaged pelvic nerves or arteries, although less common, can result in impairment of erectile function as well.
Your nervous system controls the blood vessel activities that lead to an erection. Erections can be hampered by prescription drugs that interfere with nerve signals. Prescription medication used to treat high blood pressure, cancer, and depression are among the many types. But if your doctor tells you to stop taking a drug, do so. Prostate cancer treatments like hormonal therapy, radiation therapy, and surgery can also affect tissues and nerves in the penis putting someone in danger of developing erectile dysfunction. ED may also be exacerbated by obesity, drinking too much, alcoholism, smoking, and drugs, such as marijuana.
Defining Erectile Dysfunction (Impotence)
If you have erectile dysfunction, you could believe that you are unable to achieve an erection ever again. This is a common misconception. This is not the case in the vast majority of scenarios. First, let us define what impotence or erectile dysfunction is:
Erectile dysfunction, sometimes known as ED, is the most prevalent sexual issue that men discuss with their primary care physician. Up to 30 million males are affected by this condition.
ED refers to the inability to achieve or maintain an erection that is strong enough to be used for sexual activity. Even while it is not unheard of for a guy to experience some issues with erections from time to time, erectile dysfunction (ED) that is progressing or occurs consistently with sexual intercourse is not normal or innevitable, and has to be treated.
Over time, impotence can harm your quality of life and the quality of your sexual interactions. Many of the underlying reasons for ED can be addressed using a variety of therapy approaches.
Main Causes of Erectile Dysfunction
There are many risk factors for erectile dysfunction including age, heart disease, high blood pressure, low testosterone, smoking, and diabetes are just a few. Understanding the most common causes will help you pinpoint why you may be having the problem. The following are the most common reasons for erectile dysfunction: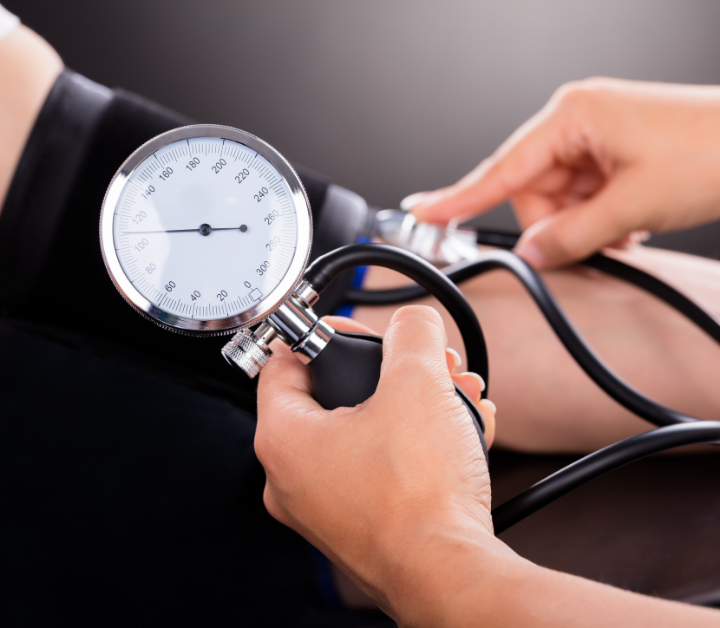 1. Cardiac-related Conditions & Diseases
Impotence might be caused by various heart-related conditions (or vascular problems), and if it's aggravating, it can turn into a chronic illness. You can't get an erection if you don't have enough blood flow to the penis.
As an example, a cardiovascular disease or condition known as atherosclerosis, which causes blood vessels to become obstructed, can lead to impotence. Impotence is also linked to excessive cholesterol and high blood pressure (hypertension).
2. Some Types of Medication
Erectile dysfunction (ED) can result from taking certain drugs, which might impair blood flow. However, even if a medicine is known to cause impotence, you should never stop taking it without consulting your doctor first. Here are some examples:
Alpha-adrenergic blockers, such as tamsulosin (Flomax), antihistamines, and other similar drugs.
Beta-blockers, such as carvedilol (Coreg) and metoprolol (Lopressor), and chemotherapy drugs.
A variety of drugs affect the central nervous system, including depressants like alprazolam (Xanax), tranquilizers like diazepam (Valium), and opioids like codeine; stimulants like cocaine and amphetamines; diuretics like furosemide (Lasix) and spironolactone (Aldactone); selective serotonin-reuptake inhibitors (SSRIs) like fluoxetine (Prozac) and parox (Eligard).
3. Neurological and Nerve Disorders
Erectile dysfunction can also be caused by a variety of neurological disorders. Brain-reproductive communication is impaired when there are problems with the nervous system. Impotence is linked to a variety of neurological conditions, including:
Alzheimer's is a disease that causes memory loss.
Parkinson's is a disease.
Tumors of the brain or spinal cord.
A disease called multiple sclerosis (MS).
Stroke.
Epilepsy of the temporal lobes.
Nerve injury following prostate surgery.
Also, temporary impotence is not uncommon in long-distance cyclists.
Hormones produced by the endocrine system of the body regulate a wide range of bodily functions, including metabolism, sexual function, reproduction, and mood. Impotence can be a side effect of some endocrine diseases, such as diabetes. Insulin sensitivity is compromised in people with diabetes. According to the National Institute of Diabetes and Digestive and Kidney Diseases, men with diabetes are two or three times more likely to develop ED.
A nerve injury is a common consequence of long-term diabetes. Penis sensitivity is harmed as a result and can also cause poor blood flow and problems with hormone levels.
Psychological factors cause men to struggle to get or keep an erection. Stress, melancholy, guilt, negative body image, marital problems, mental illness, sleep disorders, or anxiety—including performance anxiety—can cause ED.
ED is more common in men who suffer from depression or anxiety. Depression is characterized by a sense of hopelessness, misery, or despair. Depression-related exhaustion can also lead to impotence.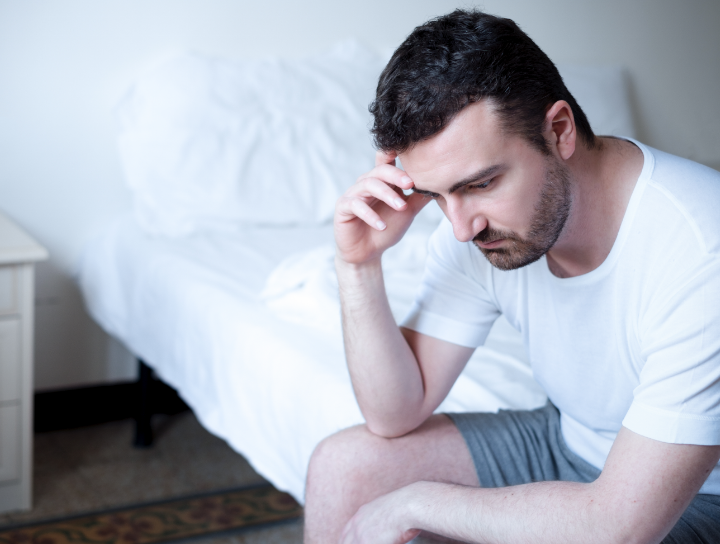 Fast and Discreet Delivery
Get Ed Treatment Delivered
Lifestyle can affect the health of many people, and men with bad health habits tend to be diagnosed with ED. Two of the main factors are:
Impotence is another potential side effect of a substance use disorder. Cocaine and amphetamines are examples of substances that can harm your health and cuase erectile dysfunction.
Alcohol Use Disorder (AUD)
Inappropriate or disordered use of alcohol, often known as alcohol use disorder (AUD), might interfere with your ability to get or maintain a healthy erection. If you think you may have a problem with substance use, you should make an appointment with your primary care physician.
Symptoms of Erectile Dysfunction
Having the ability to have an erection sometimes, but not every time you want to have sex.
Having the ability to get an erection but not having it last long enough for sex.
Failure to get or maintain an erection at any given moment.
Talking To Your Doctor About Impotence
Despite being associated with age, erectile dysfunction is not inevitable. Many people, regardless of age, have been diagnosed with the illness.
Consult a doctor if you have erection problems. Urologists and general care doctors can assist cure erectile dysfunction. If you have an underlying medical issue, you may be referred to a specialist.
Sexual health affects your overall health and self-esteem—it also produces tiredness and stress—so it's crucial to discuss your symptoms and underlying concerns frankly and honestly with medical providers.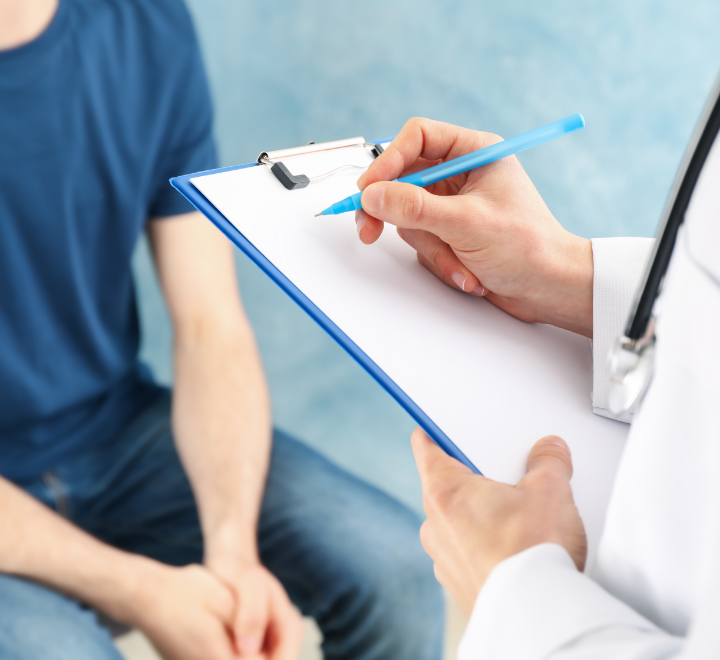 Symptoms & Treatment for Erectile Dysfunction
In order to determine the root cause of your erectile dysfunction, your doctor will first check to see if you have any underlying or unknown health issues that could be contributing to or exacerbating it.
There are a variety of therapy methods available for erectile dysfunction, depending on the underlying health conditions and the underlying cause. Whether low testosterone, psychological factors, or other health obstacles, your doctor will go over the advantages and disadvantages of each treatment with you and take your preferences into account.
Medications (viagra, tadalafil, vardenafil, etc.), penile injections treatments, and ED Shockwave process are the most popular ways to treat ED. None of them are painful. In some cases where patients do not respond to any other form of treatment, penile implants can be an option.
But whether a person is looking to treat ED with medication or is interested in a penile implant, it's important to note that before beginning any treatment a physician should first be consulted. A physician or sexual health specialist provides a complete physical examination and conducts a series of interviews in order to choose the right course of treatment for the patient.
In cases where the underlying cause of impotence can be treated, impotence (or ED) is curable. Medications to increase blood flow are one option for treatment, as well as talk therapy and pharmaceutical changes. All of these can help men with impotence.
It is also possible to improve the symptoms of erectile dysfunction with medications like sildenafil (Viagra) and tadalafil (Cialis). Keep in mind that not all causes have treatments, and it may take some time for a doctor to thoroughly identify your unique situation.
Boston Medical Group and the specialists affiliated with it offer treatments for a variety of conditions affecting men's health, including erectile dysfunction and other male sexual dysfunction. The medical professionals at BMG are on the lookout for the causes of ED and even possible threats to a patient's health. Call us today or make an online appointment so we can restore your sexual health!
Return to GREAT SEX
Call To Refill Your ICP Now!